In these galleries you will find photos/images from two vacations in Australia 2000 and 2002. Click on the thumbnail to open the named gallery. Enjoy your holidays!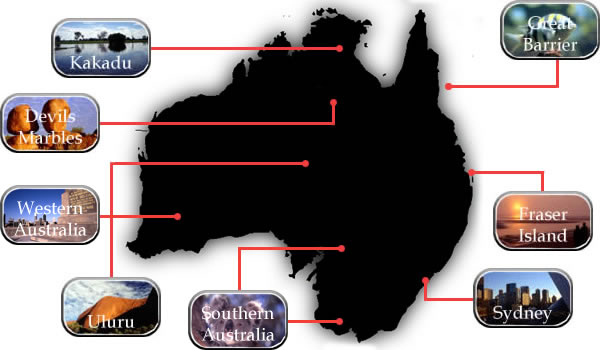 ---
I can remember a photo-show in Stuttgart in 1990 with a friend to be the first step to Down Under. Ten long years some insignificant little details held me back from actually making the final step to Australia: Studying, no money, a bit later not enough money and finally being scared of 24 hours in a plane. But in 2000 and 2002 I couldn't help it. I had given myself every excuse in the book. It was time to go. Even if my account was written in red numbers for a long time afterwards.
The simple summary: it was worthwhile. I would have never thought that I could be impressed so much. On every vacation before I was glad to finally going back home. Not this time. Not in Sydney. If someone would have offered me a job and a place to live, I'd probably have stayed Down Under.
Here is the Original-Travel-Diary 2000, written by my friend Thomas Koester and here ist my own Travel report from the trip 2002/3. Unfortunately I have not been able to translate the travel journals so they are only available in german. Sorry!
---
More information about Australia:
Travel Australia - (german)
Australien-Info.de - (german)
Australienbilder.de - (german)
Nullarbor News - (german)
Outback-Guide - (german)
Outback-Info.de - (german)
---